Results found: 13
---
We take Can-Am's baddest motocross ATV for a ride on the Oregon Coast. The 2009 DS 450 mx put its considerable motor to use in the sand dunes for a few days of gritty testing. Check out the full story in our 2009 Can-Am DS 450 EFI X mx ATV Review.
---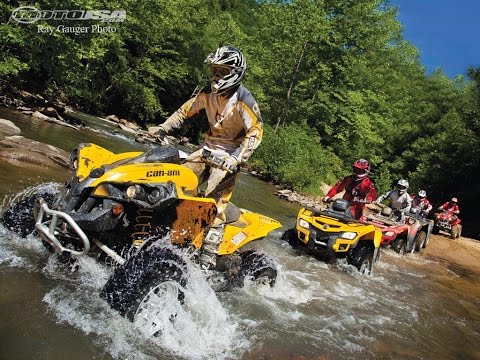 We explore the Hatfield-McCoy trail system and Burning Rock Off-Road Park under the guidance of West Virginia ATV Tours. Can-Am ATVs were our ride of choice as we enjoyed the hospitality and scenery as WV was Rolling Out the Welcome Mat.
---
Can-Am looks to shake up the touring realm with the release of its 2010 Can-Am Spyder RT. Check out the video then read Adam's first ride impressions in the 2010 Can-Am Spyder RT First Ride article.
---
MotoUSA spent two days getting to know the Can-Am Outlander and Outlander MAX ATVs. These sport utility quads proved to be willing companions on the popular trail systems of West Virginia. Watch the video then check out the full report in our 2009 Can-Am Outlander & Max 800 EFI Review.
---
Can-Am puts 4WD technology and a huge motor into this cross-country sport ATV. We found out quickly that the Renegade 800R EFI and Renegade 500 EFI aren't cut out for slow-paced grunt work. Check out the full story in our 2009 Can-Am Renegade 800R EFI ATV Review
---
Jolly old St. Nick takes a spin on the Can-Am Spyder. Read more about Santa's Manhattan ride in the Santa Rides Can-Am Spyder in Manhattan article.