Results found: 12
---
We slapped on a set of Cobra Speedster Swept exhaust on our 2010 Honda Fury Project Bike. Read more about the pipes in 2010 Honda Fury Project – Part 2.
---
New for 2010 is Honda's bad bay Shadow Phantom V-Twin cruiser. Be sure to check out what we thought of the new mid-sized cruiser in our 2010 Honda Shadow Phantom First Ride .
---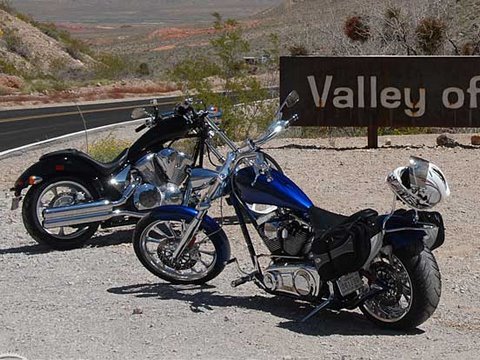 We hopped on two factory choppers and charted a course across the Mojave Desert to test the mettle of the Big Dog Coyote and the Honda Fury. Read all about it in Motorcycle USA's 2010 Honda Fury vs 2009 Big Dog Coyote comparo.
---
The price of cool – We get a chance to sample Honda's first attempt at the custom chopper market. Check out the full story in our 2010 Honda Fury First Ride.
---
Quick Look at the early-release 2010 Honda Fury chopper/cruiser, a departure from the norm from the boys in red. For more information read the article: 2010 Honda Fury Chopper First Look.
---
Video of the 2005 Honda VTX1800F. 2005 Performance Cruiser Comparo.